Files
Nuevas incorporaciones a la gama Polaris Off-Road 2020 que ofrecen aún más opciones de estilo
Polaris präsentiert neues Modellprogramm 2020: attraktive Neuheiten, noch mehr Vielfalt und zusätzliche Styling-Optionen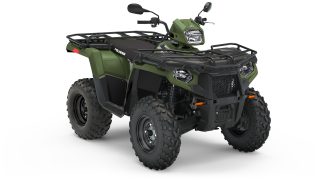 Polaris Off-Road Vehicles today announced even more additions to its 2020 lineup, including the introduction of the new-and-improved Sportsman 570 EPS Agri PRO Special Edition, as well as three new Hunter Special Editions, an upgraded Ranger Crew model and a host of new colours available across its European lineup.
"Our new 2020 lineup offers our customers more options than ever before," said Rodrigo Lourenco, Vice President and General Manager of Polaris Off-Road Vehicles EMEA. "With their versatility across any task, off-road capability on any terrain and ease of carrying the right accessories safely and securely with our Lock and Ride solutions, the new models are the ideal companion for farmers, hunters and off-road enthusiasts alike."
Agri PRO Special Edition
Building upon the existing Agri edition announced for 2019, the new special edition delivers the renowned performance of the best-selling Sportsman 570 and is loaded with hard-working features to make it the ultimate agricultural tool – now with even more features to help get the job done. Equipped with carbon fibre foil and metal heat shields underneath the fuel tank, as well as a sealed battery, new independent rear suspension with stronger springs and durable steel racks on the front and rear; perfect for hauling the right tools for the job at hand. A variable low speed limiter is now available on the Agri PRO edition of the Sportsman 570 EPS, that allows riders to restrict the speed to assist with low-speed tasks, such as mowing, towing, ploughing or spraying. With the reliable ProStar 570cc engine with electronic fuel injection (EFI), high ground clearance and dependable all-wheel drive, the new Special Edition allows riders to tackle even the toughest terrain and take on any task.
Hunter Special Edition
Polaris announces the new Hunter Edition lineup for 2020, complete with Polaris Pursuit® Camo finish available for the Sportsman 570 EPS, Ranger XP 1000 EPS Deluxe and Ranger EV models. The Sportsman 570 EPS Hunter Edition comes with front and rear racks for enhanced storage capability, front and rear brush guards for improved resistance to damage from delving deep into the forest, as well as hand and thumb warmers for added rider comfort. Whether it's to blend into the forest or just for a wild ride, the Hunter collection has been specifically designed for hunting and outdoor pursuits with a premium, special edition camouflage design.
Ranger Crew 1000-6 Premium
Alongside the new Special Editions is a new model for 2020; the Ranger Crew 1000-6 EPS Premium. Available with a striking Steely Blue paint finish, the 2020 Ranger Crew model offers premium features with aluminium wheels and more refined interior accents, including plush seating that delivers all day comfort for up to six people, and an all-new steering wheel that provides an upgraded, automotive-style look and feel.
New Colours
The 2020 lineup packs a host of premium styling upgrades with all-new colour options available across the Ranger and RZR offering. The RZR XP 1000 EPS and XP4 1000 EPS are now available in White Lightning, whilst the RZR S 1000 EPS now comes in Turbo Silver and the RZR XP Turbo S comes in Ghost Grey. Now available in the Black Pearl colour option is the Ranger XP 1000 EPS, and for the younger riders, the Ranger 150 now comes in Sagebrush Green or White Lightning with Indian Sky Blue.
For further media information on Polaris ORV products, please contact the Polaris ORV Media Office on +44 (0) 1525 270100 or email us at: press@polaris-orv.media or follow us on Twitter @polarisEMEA_PR
About Polaris
Polaris Industries Inc. (NYSE: PII) is a global powersports leader with annual 2017 sales of $5.4 billion. Polaris fuels the passion of riders, workers and outdoor enthusiasts with our RANGER®, RZR® and POLARIS GENERAL™ side-by-side off-road vehicles; our SPORTSMAN® and POLARIS ACE® all-terrain off-road vehicles; INDIAN MOTORCYCLE® midsize and heavyweight motorcycles; SLINGSHOT® moto-roadsters; and Polaris RMK®, INDY®, SWITCHBACK® and RUSH® snowmobiles. Polaris enhances the riding experience with parts, garments and accessories sold under multiple recognisable brands, and has a growing presence in adjacent markets globally with products including military and commercial off-road vehicles, quadricycles, and electric vehicles. www.polaris.com