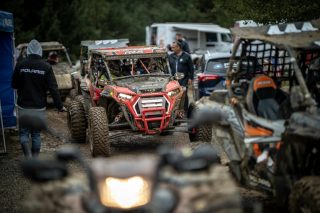 Polaris Czech Republic recently held the first edition of Polaris Off-Road Challenge, a new racing event not only for Polaris customers, but for all off-road enthusiasts. Welcoming nearly 100 guests to the new event, Polaris laid on an action-packed day of racing, full of smiles, adrenaline and lots of mud.
Hosted at the Pistov Tankodrom in Czech Republic, the venue featured a 2.5-kilometre long track to put the vehicles through their paces with a combination of technical and steep inclines/declines, quick changes in surfaces including gravel, fields, forest and rocks, and thanks to the rain, deep mud and water-filled ditches across the course. For the junior category open to ages between five and twelve, there was a separate 800-metre course that allowed children to enjoy the off-road action in a safe, controlled environment.
"The main aim of the event was to create a buzz for the brand, and for off-road racing in general," said Jaromír Kouřil, Country Manager. "We're incredibly proud of how successful the event was; the course and terrain perfectly highlighted the power, speed and reliability of the Polaris vehicles and every winner of each category raced in a Polaris, so we are very pleased with that outcome! Next year, we aim to make the event even bigger, and potentially introduce an amateur racing championship to the market to make it extra competitive and fun for all that take part."
Not just for racing, a barbecue was held on the Saturday night along with a raffle with big value vouchers up for grabs for discount on new Polaris vehicles. The event featured displays for Polaris parts, gear and accessories, as well as having dealer units on display which were also available for test rides during practice sessions.
"We'd like a say a big thank you to all the Polaris Czech team that helped to organise the event and who made it so successful," said Lukáš Bordovský, Polaris CZ Event Organiser. "As well as a massive thank you to our sponsors of the event; Bosch, Qnap, Adata, Letenský Manžel, Pivovar Bernard and Big Shock!",
For further media information on Polaris ORV products, please contact the Polaris ORV Media Office on +44 (0) 1525 270100 or email us at: press@polaris-orv.media or follow us on Twitter @polarisEMEA_PR
About Polaris
Polaris Industries Inc. (NYSE: PII) is a global powersports leader with annual 2017 sales of $5.4 billion. Polaris fuels the passion of riders, workers and outdoor enthusiasts with our RANGER®, RZR® and POLARIS GENERAL™ side-by-side off-road vehicles; our SPORTSMAN® and POLARIS ACE® all-terrain off-road vehicles; INDIAN MOTORCYCLE® midsize and heavyweight motorcycles; SLINGSHOT® moto-roadsters; and Polaris RMK®, INDY®, SWITCHBACK® and RUSH® snowmobiles. Polaris enhances the riding experience with parts, garments and accessories sold under multiple recognizable brands, and has a growing presence in adjacent markets globally with products including military and commercial off-road vehicles, quadricycles, and electric vehicles. www.polaris.com