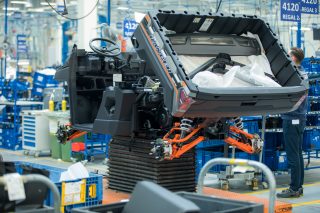 Two decades since the introduction of the very first Polaris RANGER®, the historic legacy continues with the launch of the RANGER XP® 1000.
The RANGER XP® 1000 is the latest addition to our strong utility vehicle line-up, and sets a new industry standard with over one hundred user-inspired improvements. It features class-leading power (82hp) and torque (61lb-ft), industry-leading towing (over 1100kg) and ground clearance (330mm) – which make it is the hardest working, smoothest riding SXS built.
So what does it take to design the new RANGER XP 1000?
Steve Wilcox, Senior Industrial Designer at Polaris Industries commented on development:"The process of getting a new product ready for production involves research, sketching, clay modeling and then a full-size hard model is created. This is followed by A-side Computer Aided Design (CAD) data for tooling. During the early phases of sketches and clay development, a new model can take between 24-32 months to complete a ground up design, with several team members contributing up to 65 hours per week."
Steve was the Senior Designer of the RANGER XP® 1000, and responsible for the creation of the 2D exterior styling concept that was chosen to go into production and also overseeing the development of the design in clay, Computer Aided Design (CAD) and production.
"I love the RANGER line-up and I'd say that the new XP® 1000 is my favourite as it's a product of my own blood, sweat and tears – and it turned out great."
The Industrial Design department can often have five to six major programs running simultaneously, each having their own designer assigned. Very often, Senior Designers like Steve can often work on more than one project at once.
"Typically I have direct involvement between three and five major programs at any given time and frequently have a few smaller programs sprinkled in as well."
Customer insight was used for the developments made to the RANGER XP® 1000 with 100 customer inspired updates being incorporated into the product.
Tiger Bracy, Manager of the Industrial Design team, said: "The "Voice of Our Customer" is always present and taken into consideration in the development of our products. We use online studies, dealer research, ride clinics, and focus groups to gather as much feedback as possible. This way we can make sure we're delivering on what the consumer wants."

Steve agrees: "Without the consumer, we have no product. As a designer, I am provided with lots of research by the product team but on top of this I always try to collect my own data by having informal and personal interviews with real people and asking very specific questions."
While customer demand is an important driving force for constant innovation, so is the desire to remain a global powersports leader.
"We update models because our customers demand improvement and they deserve them, but awe also do it so that we stay ahead of our very aggressive competitors. We aim to refine our models with new features, and push the limits of design to maintain our position as industry leaders," explains Steve.
With so much valuable feedback and data from owners as well as years of experience and knowledge, how does the team decide which improvements and changes are the most important?
"It's a balancing act between functionality, performance and style," admits Tiger. "We rank the attributes that are most important to customer's needs, and we turn them into characteristics that the vehicle must deliver on."

Steve concurs: "It's also a case of balancing what is feasible within the scope of the program. We use our own experience and creativity to solve problems and enhance the user experience. Sometimes the consumers don't realise there are areas to be improved. We're enthusiasts ourselves and scrutinise the experience – perhaps sometimes more than our users – this is where we have the opportunities to innovate." 
Both agree that working on a product, and then seeing it being used by customers is an extremely rewarding experience.
"I love seeing the products that we've worked on being used by customers. For me, the RANGER DNA is 'Hardest working, smoothest riding' and it applies to all the RANGER's I've worked on. I'd say the biggest challenge is always having to prioritise the most important styling features because during the engineering process, compromises will always be made. It's hard to let some of the key elements go, but you must in order to balance other features. My favourite parts of the latest RANGER are the stance and the styling," said Steve.

Tiger concludes: "For me, RANGER must have a powerful motor, large cargo capacity, smooth suspension, industry leading towing ability, and a comfortable yet functional interior. All these elements we have built into the RANGER XP® 1000."
For further media information on Polaris ORV products, please contact the Polaris ORV Media Office on +44 (0) 1525 270100 or email us at: press@polaris-orv.media or follow us on Twitter @polarisEMEA_PR
About Polaris
Polaris Industries Inc. (NYSE: PII) is a global powersports leaderwith annual 2017 sales of $5.4 billion. Polaris fuels the passion of riders, workers and outdoor enthusiasts with our RANGER®, RZR® and POLARIS GENERAL™ side-by-side off-road vehicles; our SPORTSMAN® and POLARIS ACE® all-terrain off-road vehicles; VICTORY® and INDIAN MOTORCYCLE® midsize and heavyweight motorcycles; SLINGSHOT® moto-roadsters; and Polaris RMK®, INDY®, SWITCHBACK® and RUSH® snowmobiles. Polaris enhances the riding experience with parts, garments and accessories sold under multiple recognizable brands, and has a growing presence in adjacent markets globally with products including military and commercial off-road vehicles, quadricycles, and electric vehicles. www.polaris.com