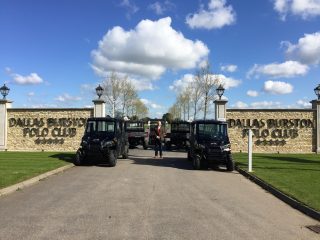 Dallas Burston Polo Club, part of the IXL Events group, has taken delivery of four new Polaris Ranger Crew side by side vehicles. Situated right in the heart of England in Warwickshire, Dallas Burston is an award-winning events venue and encompasses 600 acres of indoor and outdoor event space with six polo grounds and unique facilities for conferences, weddings, fun days and team building events. It's also a major centre for equestrian eventing and is developing as a dressage venue. Dallas Burston sourced their new Rangers from Polaris authorised dealer All-4 Ltd. of Nuneaton, who had previously supplied them with a Ranger 570. The club is the subject of a £122m investment programme and the new Rangers have a strong role to play in the smooth running of the events.
"We have had Polaris before and never had any problems," says Major Richard Carney MBE, the group's Director of Operations, "so the choice was straightforward. The Rangers are good, strong vehicles, easily accessible and perfectly suited to our site and events."
The Rangers, which each seat four people in comfort, will be used to shuttle staff between the venues and for general maintenance, cleaning operations and erecting event signs. The site can be quite windy at times so staff will benefit from the Polaris exclusive Lock and Ride Pro-Fit cab systems fitted to the Rangers, with doors, windscreens, rear panels and roofs keeping out the elements.  The Rangers are also much liked for the amount of storage area available and of course for their off-road ability. Having the four vehicles means as well that staff don't need to use their own cars to move between venues on the roads all around the site.
Dallas Burston are very proud of their six polo grounds and host a number of exciting tournaments each year, attracting large numbers of teams and spectators from around the UK. Their aim is to offer a centre of excellence in the heart of England, which offers national reach without forgetting local value.
Polaris Britain Ltd.
0800 915 6720
For more press information and images for this release please contact:
Tony Hawkins & Associates
01844 279863/ 0797 9598 999