Files
Jetzt bewerben und Startplatz sichern: Polaris lädt zu packenden Offroad-Events mit den Stars der Szene

Login to Download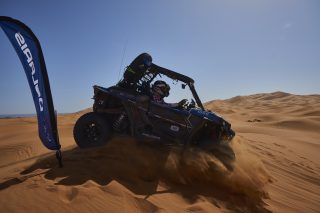 Polaris ATV and SXS vehicle owners around the world are welcomed to three loyalty events being hosted by Polaris Spain and Portugal from July to November.
Attendees at all three of the events could be in with a chance of winning an entry into the 2018 Polaris Trophy – worth over 3000 euros.
July 21-23 – Baja Experience Polaris – Aragon, Spain
RZR owners have the chance to 'join the race' and experience the event as a professional driver would – but without the pressure of competing. This is an exclusive opportunity and can only be done with a Polaris – unless you're an official race participant.
Once the official race has finished, participants will use the same paddock as the professional drivers and use the same roadbook to drive the same tracks as their idols.
A key date in the Fédération Internationale de l'Automobile (FIA) race calendar, well-known racing names such as Nani Roma and Stéphane Peterhansel, amongst others, use the event as preparation for the Dakar.
As well as the experience, participants will receive a welcome pack with the special 10th anniversary RZR t-shirt, hotels and meals and a chance to have their pictures taken at the podium.
Those interested are advised to book now as there are just 20 places available.
For more information, click here.
October 7 – Evasión Polaris 8 – Sip Bassella, Spain
Owners of Polaris ATVs and RZR vehicles can take part in a 3-hour ride, hill climb and get dirty in the 'mud-zone' – Evasión Polaris 8 is a leisure event aimed at those wanting to spend time with friends and family,
For more information, visit: www.polaris-spain.com or visit the Facebook page at: Facebook.com/PolarisSpain
November 3-10 – Polaris Trophy – Erfoud, Morocco
A adventure event in Morocco, the Polaris Trophy is open to RZRs only.
The base will be the beautiful locations of Hotel Xaluca in Erfoud, Morocco with each of the five stages setting off and arriving at the hotel. Participants will drive more than 1000km in the dunes and tracks of Morocco.
Friends and family of participants – and fans – can follow the live progress online at: https://polaristrophy.com/
Polaris Spain's Miriam Torrens, said, "We love giving Polaris owners fantastic experiences based around their Polaris machines. The events are brilliant fun whether you're an individual looking to spend some time with your RZR or bringing your whole family along to create lasting memories. The atmosphere at the events is nice and relaxed with the main aim of having fun on four-wheels."
The above events will form the 'Polaris Passport' – those attending all three of them and obtaining the official stamps from each of the events will be entered into a prize draw to win a free place in the 2018 Polaris Trophy, a prize worth over 3000 euros. However, participants can attend one, two or all of the events.
For more information, visit: http://polaris-spain.com/
For further media information on Polaris ORV products, please contact the Polaris ORV Media Office on +44 (0) 1525 270100 or email us at: press@polaris-orv.media or follow us on Twitter @polarisEMEA_PR
About Polaris
Polaris Industries Inc. (NYSE: PII) is a global powersports leader with annual 2015 sales of $4.7 billion. Polaris fuels the passion of riders, workers and outdoor enthusiasts with our RANGER®, RZR® and POLARIS GENERAL™ side-by-side off-road vehicles; our SPORTSMAN® and POLARIS ACE® all-terrain off-road vehicles; VICTORY® and INDIAN MOTORCYCLE® midsize and heavyweight motorcycles; SLINGSHOT® moto-roadsters; and Polaris RMK®, INDY®, SWITCHBACK® and RUSH® snowmobiles. Polaris enhances the riding experience with parts, garments and accessories sold under multiple recognizable brands, and has a growing presence in adjacent markets globally with products including military and commercial off-road vehicles, quadricycles, and electric vehicles. www.polaris.com