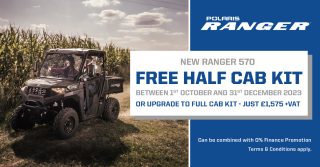 Polaris Off Road is pleased to announce a new and exclusive offer for customers in the UK and Ireland: Any customer purchasing any new, mid-size Ranger 570 is eligible for a FREE half cab kit upgrade, worth £1,798.80*.
Running from 1st October 2023 until 31st December 2023, the half cab kit offer will give new Polaris Ranger 570 owners the benefits of a half cab at no extra cost, providing riders with protection from the elements leading up to the winter months. Buyers can also combine this offer with Polaris Finance 0% hire purchase, spreading the cost over two years.
The half-cab kit upgrade comprises Lock & Ride® Full Glass Windshield, Wiper and Washer System, Sport Poly Roof and Poly Rear Panel. Polaris Genuine Accessories are designed by the same people who designed the vehicle, so riders can be sure the components are built to the highest quality and standard. Buyers can choose to complete the cab with full crank window doors for just £1575 excluding VAT.
Richard Coleby, National Sales Manager for Polaris UK said: "The Ranger 570 is a small but mighty machine, and with the unpredictable British winter just around the corner, the half cab kit offer allows our customers to add protection from the elements to their Ranger, meaning they can stay on the go for longer."
The perfectly sealed Lock and Ride® Full Glass Windshield ensures impeccable clarity and toughness whilst protecting the rider from unpredictable weather, making for a vastly more comfortable ride. Thanks to the Lock and Ride® functionality, the windshield can be fitted and removed in a matter of minutes.
Made from optical grade, 0.6-centimetre polycarbonate, the scratch-resistant Poly Rear Panel provides riders with superior visibility and reliable protection from wind, inclement weather, off-road hazards and cargo shifting in the rear cargo box. The low-profile rear panel installs quickly and easily using Polaris' Lock & Ride® functionality and a reliable seal is created thanks to the recessed channel design providing a professional grade fit.
The windshield and rear panel work in synergy to block dust swirling into the cab from the rear, creating greater protection from the dirt whilst out at work. Included in the half cab kit is the wiper and washer system for ultimate clarity no matter the weather.
Riders can stay warm, dry and comfortable all day thanks to the lightweight and durable Sport Poly Roof that fits perfectly, installs quickly and instantly turns the cab into a safe retreat from unpredictable UK weather.
Polaris also offers a wide range of specially-engineered accessories, including the in-cab heater and defrost system, integrated audio systems, light bars, plows and winches, as well as hundreds of Lock&Ride storage solutions for the cargo bed.
For 2023, the Ranger SP 570 starts at £11,999 excluding VAT, and is available in Sage Green. The Ranger SP 570 is also available with EPS and in various special editions including the Hunter Edition and Nordic Pro Edition.
—
0% Finance for Business Customers
Polaris UK's exclusive two-year 0% finance offer* for business customers purchasing any Polaris model in the United Kingdom has now been extended. Running in conjunction with new finance partners, DLL, a global finance brokerage with more than 50 years of experience, this offer is available on all adult and youth products**, running until 31st December 2023.
Sportsman 570 Trade-in Offer
Any customer who purchases a new Sportsman 570 from an authorised and eligible Polaris UK dealer from now until 31st December 2023 can now receive a £1000 (including VAT) trade-in contribution when they trade in any make or model of ATV or SXS towards a new Sportsman 570 model.
Free ATVTrac Tracking System
Polaris has partnered with leading security experts, ATVTrac, to equip all new adult models with the proven off-road vehicle tracker as standard and a complimentary 12-month subscription to the digital services, so riders can be confident that their new vehicle is better protected. ATVTrac is S7 Thatcham Accredited. The device protects on multiple levels, offering GPS location and radio frequency (RF) detection. The RF allows us to pinpoint a device to an accuracy of just one metre.
Free EASI Training
As well as the free upgrade and free security tracker, the Ranger 1000 and XP 1000 comes with free EASI training for one operator. EASI training, RRP £180, is run by the European All-Terrain Vehicle Safety Institute and consists of a comprehensive training course to maximise the safety of Polaris riders.
Two Year Warranty
All new adult Polaris vehicles come with a comprehensive two-year warranty as standard for ultimate peace of mind. Subject to qualifying terms and conditions.
TO FIND OUT MORE ABOUT THE OFFER, PLEASE SPEAK TO YOUR LOCAL, AUTHORISED POLARIS DEALER – FOUND HERE.
 *Excluding VAT.
Please visit the Polaris Britain website for full terms and conditions.