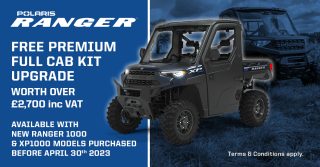 FREE upgrade to a premium full cab when purchasing a new Ranger 1000 / Ranger XP 1000 fitted with a half cab.
Polaris Off Road is pleased to announce a new and exclusive offer for customers in UK and Ireland: Any customer purchasing a new, full-size, three-seat, petrol Ranger (Ranger 1000 / XP 1000) fitted with a half cab is eligible for a FREE upgrade to a premium full cab kit, worth £2,760*.
Running from 1st February 2023 until 30th April 2023, the cab upgrade offer will give new Polaris Ranger 1000 / XP 1000 owners the benefits of a premium full cab at no extra cost, providing riders with next-level comfort, in-cab noise reduction and complete protection from the elements – be it rain, wind, snow, or dust.
The premium full cab upgrade comprises poly doors with manual-crank windows, a premium poly roof, a glass rear panel and a full glass, tip-out windshield complete with a windshield wiper and washer system. The components are built to perfectly fit the contours of the profile tube cab frame, floor and body panels, ensuring a 360-degree seal and seamless integration.
"A full cab can make a serious difference to the Ranger experience, so the opportunity to upgrade to a premium cab kit for free is a no-brainer if you're in the market for a new full-size UTV", said Richard Coleby, National Sales Manager at Polaris UK. "Knowing what these vehicles are capable of off-road, plus the complete rider protection offered by the cab – it takes the guesswork out of the UK's typically unpredictable weather so you can continue on working, no matter the conditions."
Upgrading from a half cab to a premium cab adds full doors to the cab, offering complete 360-degree coverage, making the interior warmer, quieter, and more protective. The manual crank window doors feature an upper glass window that can be manually opened and closed for ventilation, an added in-door storage compartment and an audio-ready speaker mount. With 2.5cm tube steel frames, the inner and outer shells being made from high-quality injection-moulded plastics with shatterproof tempered safety glass windows, the premium full doors can handle the rigours of the off-road.
The scratch-resistant glass tip-out windshield and glass rear panel provide superior optical clarity, are heavy-duty to withstand extreme cold weather, and are built to curve with the vehicle for a perfect seal. The tip-out windshield design offers three positions – open, closed and vented – with a gas strut for assisted easy opening and closing. Included in the premium full cab kit is the wiper and washer system for ultimate clarity no matter the weather.
Lightweight, durable, and impact-resistant, the premium poly roof provides complete protection from the elements with a contoured design to reduce standing water. The roof includes a roof liner for reduced cab noise, hidden wiring, and the added benefit of a premium finish.
With a fully kitted Ranger cab, why not explore the wide range of specially-engineered accessories offered by Polaris, including the in-cab heater and defrost system, integrated audio systems, light bars, plows and winches, as well as hundreds of Lock&Ride storage solutions for the cargo bed.
For 2023, the Ranger 1000 EPS starts at £15,999 excluding VAT, and is available in White Lightning or Nordic Pro Edition, whilst the top-of-the-range Ranger XP 1000 EPS starts at £18,299 excluding VAT, and is available in Azure Crystal, Hunter Edition or Nordic Pro Edition.
Free ATVTrac Tracking System
Polaris has partnered with leading security experts, ATVTrac, to equip all new adult models with the proven off-road vehicle tracker as standard, as well as a complimentary 12-month subscription to the digital services, so riders can be confident that their new vehicle is better protected. ATVTrac is S7 Thatcham Accredited. The device protects on multiple levels, offering GPS location and radio frequency (RF) detection. The RF allows us to pinpoint a device to an accuracy of just one metre.
Free Easi Training
As well as the free upgrade and free security tracker, the Ranger 1000 and XP 1000 comes with free Easi training for one operator. Easi training, RRP £180, is run by the European All-Terrain Vehicle Safety Institute and consists of a comprehensive training course to maximise the safety of Polaris riders.
Two Year Warranty
All new adult Polaris vehicles come with a comprehensive two-year warranty as standard for ultimate peace of mind. Subject to qualifying terms and conditions.
To find out more about the offer, please speak to your local, authorised Polaris dealer – found here.
Please note, no finance offer can be combined with this promotion.
*Excluding VAT. Free upgrade offer is only valid on new 2023 3-seat Ranger 1000 and Ranger XP 1000 units purchased between 1st February 2023 and 30th April 2023. All orders must be placed and confirmed directly with your local, authorised Polaris dealer within the promotional window to be eligible.
Please visit the Polaris Britain website for full terms and conditions.
For further media information on Polaris ORV products, please contact the Polaris ORV Media Office at press@polaris-orv.media.
ABOUT POLARIS
As the global leader in powersports, Polaris Inc. (NYSE: PII) pioneers product breakthroughs and enriching experiences and services that have invited people to discover the joy of being outdoors since our founding in 1954. Polaris' high-quality product line-up includes the Polaris RANGER®, RZR® and Polaris GENERAL™ side-by-side off-road vehicles; Sportsman® all-terrain off-road vehicles; military and commercial off-road vehicles; snowmobiles; Indian Motorcycle® mid-size and heavyweight motorcycles; Slingshot® moto-roadsters; Aixam quadricycles; Goupil electric vehicles; and pontoon and deck boats, including industry-leading Bennington pontoons. Polaris enhances the riding experience with a robust portfolio of parts, garments, and accessories. Proudly headquartered in Minnesota, Polaris serves more than 100 countries across the globe.