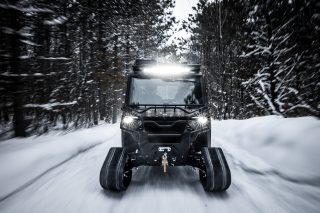 For Europe, Middle East and Africa only
This winter, go genuine with Polaris Engineered accessories designed to work in perfect sync with Polaris off-road vehicles. 
With a commitment to quality that goes far beyond design and aesthetics, Polaris Engineered accessories are tailor-made to suit Polaris' off-road vehicle lineup and the needs of its customers. Meticulously tested and validated with seamless integration and durability in mind, Polaris offers a wide range of work-ready vehicle parts and accessories that make light work of daily tasks and winter riding. 
Whether riders are clearing a path of deep snow, traversing through rugged terrain, or pulling themselves out of a challenging situation with a winch, genuine Polaris accessories are engineered to perform flawlessly, time and time again. 
HEAVY DUTY WINCH
A Polaris Engineered winch is there to help prepare riders for the unexpected. Available across the Polaris off-road vehicle lineup, Polaris' heavy-duty winches come with designated mounting points to ensure the perfect fit and strongest mounting position, as well as pre-assembled integrated wiring built right into the vehicle chassis for easy installation and no need to cut panels when installing the controls. Riders simply need to mount the winch, connect the wires and trust that everything is routed safely, securely and properly. 
All Polaris Engineered winches are built for extreme conditions undergoing military-grade testing and approval processes with over 1,200 pulls at maximum load and withstanding temperatures as low as -29 degrees Celsius. With a sealed drivetrain, sealed permanent magnet motor and heavy-duty cut steel gears, Polaris winches also operate fully submerged underwater. Each winch comes with a robust hook with a high-visibility strap.
Depending on the winch model chosen, Polaris offers premium features and benefits available as standard or as an added upgrade to its winch lineup. A premium synthetic rope offers superior flexibility whilst remaining extremely strong and durable. Lightweight and 15.2 metres long, the synthetic rope is easy to handle and versatile for any situation. With Rapid Rope Recovery technology, the cable can be retrieved up to five times faster than standard mode, so riders can get back to riding even quicker. Auto Stop technology works by automatically stopping the winch at the end of the pull to prevent over-spooling and protect the life of the winch. This also works effectively when plowing, to prevent the plow frame from bending by stopping the winch once the plow has been lifted. The wireless remote allows the rider to safely operate the winch wirelessly within 15.2 metres of the vehicle.
Polaris Engineered winches are available for Polaris RANGER, RZR, Sportsman, Scrambler and General models. 
GLACIER PLOW SYSTEM
Polaris' Glacier plow system makes quick work of clearing deep, heavy snow during winter months. With the Polaris Engineered advantage, riders can benefit from the innovative and seamless drive-up installation process that takes just 30 seconds: Simply drive up, clip in, lock down and go. The integrated plow mount also ensures easy removal from the vehicle without the need to crawl under the machine to release the plow blade, as well as no loss of factory ground clearance when not in use, and no requirement to trim the vehicle plastics for a perfect fit. For added convenience, riders can operate the blade angle right from their seat with the Glacier Pro plow hydraulic angle system, changing the angle up to 25 degrees left and right and available as standard on select models, or as an optional extra. 
Polaris Engineered plows feature a wide frame to withstand the rigours of heavy plowing, as well as heavy-duty, durable blades that are available in strong stamped steel or corrosion-resistant poly materials.  
Exclusively for RANGER, Polaris Plow Mode with Ride Command makes snow removal easier by automatically lowering the plow when the vehicle is shifted into low gear, and raising the plow when shifting into reverse. Back drag mode allows for pulling snow away from buildings.
Polaris Engineered Glacier plow systems are available for Polaris RANGER, Sportsman, RZR and General models. 
PROSPECTOR PRO TRACK SYSTEM
Replacing the tyres and wheels of the vehicle, the Polaris Prospector Pro 2.0 track system adds all-terrain traction in deep snow thanks to less aggressive tread that displaces snow for better handling. Introducing Polaris-specific gearing that provides a 1:1 ratio, minimising track slip and improving climbing ability, as well as improving the top speed over prior models by approximately 5%, reducing operating RPM for a quieter ride, and improving driveline durability by decreasing engine wear. 
The 2.0 track system also improves stability thanks to the new front dual stabiliser and features a Polaris-exclusive optimised hub geometry to minimise feedback and ease steering effort. The lightweight design allows for better flotation and better overall vehicle control, whilst the flexible lug design gives the highest level of performance by lifting up in deep snow as opposed to digging down. 
Polaris Engineered Prospector Pro track systems are available for Polaris RANGER, RZR, Sportsman and General models. Riders can also add an optional plow extension to use the Prospector Pro Track system and Glacier Pro Plow system together. 
*For compatibility, availability and pricing in your market, please speak to your regional Media Contact or contact the Polaris EMEA Press Office at press@polaris-orv.media.
About Polaris
As the global leader in powersports, Polaris Inc. (NYSE: PII) pioneers product breakthroughs and enriching experiences and services that have invited people to discover the joy of being outdoors since our founding in 1954. Polaris' high-quality product line-up includes the Polaris RANGER®, RZR® and Polaris GENERAL™ side-by-side off-road vehicles; Sportsman® all-terrain off-road vehicles; military and commercial off-road vehicles; snowmobiles; Indian Motorcycle® mid-size and heavyweight motorcycles; Slingshot® moto-roadsters; Aixam quadricycles; Goupil electric vehicles; and pontoon and deck boats, including industry-leading Bennington pontoons. Polaris enhances the riding experience with a robust portfolio of parts, garments, and accessories. Proudly headquartered in Minnesota, Polaris serves more than 100 countries across the globe.