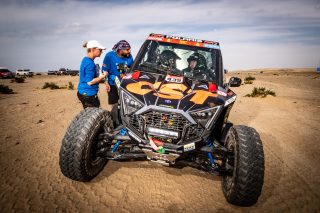 The 2023 Dakar Rally, the most arduous off-road event in the world, officially began on 31st December. With a turbulent and exciting start, the opening stages of the Dakar have already presented extreme navigational challenges, beautiful coastal views, winding routes through canyons and sheer mountains of sand to overcome, and not forgetting the intense weather conditions that forced organisers to shorten the special in stage 3.
The Xtremeplus team continue to overcome each stage at the wheel of their Polaris RZR Pro R machines.
"There are three things that make this team so special: A permanently friendly atmosphere – no matter how tough it gets – a team that feels like a real family unit, and finally, complete trust from our racers that we will support them from every angle, mechanical, logistical or even just mental," states Xtremeplus Team Manager Marco Piana. "This is our 11th year attending Dakar with Polaris, and the excitement is still like the very first. Polaris is always innovating. Since our first Dakar with the RZR 900 in 2011, to today with our RZR Pro R, we have changed the machines we use five times, and every machine is an entirely new concept that brings something even more competitive to the race.

"It was a long and demanding start as we had 8 stages in a row, when traditionally we have 6 days and then the rest day but I'm satisfied that all eight Polaris RZR Pro R vehicles – including the two machines of the Sébastien Loeb Racing team – arrived in Riyadh, considering the youth of the project," continued Piana. "We have Pietro Cinotto in our team that gives us great satisfaction with very good results, like P11 in stage 8. Unfortunately, some penalties have made him lose positions in the overall rankings. In general, the classification doesn't reflect the potential of the machine and the drivers. We had several issues, like an incident during stage 8, for example, where Michele Cinotto was hit twice by another car."
Meet the Xtremeplus teams below and follow their journey as the Dakar Rally 2023 continues…
#432 – Ferdinando Brachetti + Matteo Casuccio (Xtreme+)
In the 1980s, VIPs, actors, singers and even Alberto and Princess Carolina of Monaco joined the Dakar Rally; a must-visit event for those who love adrenaline-fuelled adventures. This year it is Count Ferdinando Brachetti Peretti challenging the wide open desert behind the steering wheel of the new Polaris RZR Pro R. Alongside being Chairman and CEO of an Italian energy company API Group, one of the biggest private groups in Italy, Ferdinando Brachetti Peretti also manages to fit in his passion for motorsports, helicopter flying and even photography.
This year marks his return to Dakar after his debut in 2021 with Xtremeplus: "Le Dakar est le Dakar, once you know it, you become addicted!" confesses Count Ferdinando Brachetti Peretti.
Teaming up with Matteo Casuccio as co-pilot, an entrepreneur and founder of a start-up in the wine market, bringing with him a wealth of experience in the rally raid scene from his days competing on a motorcycle.
Rest day position #38 (SSV overall)
#435 – Michele Cinotto + Maurizio Dominella (Xtreme+)
Michele Cinotto is an experienced racer that is competing this year alongside his sons Pietro and Carlo, all in the RZR Pro R with the support of the Xtremeplus team.
Boasting a collective number of Dakar participations at 39, the duo of Michele Cinotto and Maurizio Dominella are well-known faces around the bivouac. Cinotto is an experienced WRC driver in the 80s for Audi and Lancia factory teams, whilst Dominella has competed in the Dakar Rally a total of 31 times in the car, truck, and SSV categories, as a driver, navigator and Team Manager. Let's not forget their 2016 Dakar victory in the SSV category, as well as being vice-champions of the 2019 Cross Country Rally Championship.
"I'm happy to share this adventure with my friend Dominella and my sons," said Michele Cinotto. "As in the past editions, this is a race in the race – a family affair – in a friendly and nice way, of course! The incognita this year is the new RZR. It's a great step forward compared to the machine we raced with last year."
Team #435 was forced to withdraw after stage 7 due to an unfortunate sequence of events including fuel issues and two collisions.
#420 – Pietro Cinotto + Alberto Bertoldi (Xtreme+)
Pietro has followed in his father's footsteps, competing in the Dakar Rally two times in South America and last year in Saudi Arabia. Last year, alongside co-driver Alberto Bertoldi, Cinotto Jr. placed P18 overall in the T4 category and the first Italian team of the group.
"This is my second Dakar in a row and I'm really excited", confessed Pietro Cinotto, "I have great expectations from the new Polaris. I had the chance to test it before Dakar and I had a very good feeling. The machine is robust and competitive."
Rest day position #34 (SSV overall)
#442 – Carlo Cinotto + Marco Arnoletti (Xtreme+)
Aged 34, Carlo is Michele's youngest son. For him, Dakar is a precious occasion to share a passion with his dad and his brother Pietro.  "The target is to finish and enjoy every single day", states the Italian Engineer. "It has been a long time since my last Dakar, so it's nice to be back. The new Polaris RZR feels more like a car, it's more competitive and I'm confident that we can do well. Marco Piana did great work in the set-up of the machine in its racing version."
Alongside Carlo his faithful navigator and friend Marco Arnoletti, an experienced co-driver who boasts a second place in the T3 category in the Cross Country World Championship, and several Dakar participations.
Rest day position #36 (SSV overall)
#439 – Shinsuke Umeda + Facundo Jaton (Xtreme+)
The first time will always be a special memory for Dakar competitors. For Japanese driver Shinsuke Umeda, finishing the 2022 edition of Dakar was a dream come true. "The Dakar Rally is a cocktail of incredible emotions. My best memory? Last year during a stage, my car stopped due to technical problems. I could see only sand and dunes around me. It was sunset, the most beautiful sunset I have ever seen in my life", recalls Umeda san, " I regret I had no camera with me." Looking forward to the 2023 adventure, Umeda continues, "every night, after everyone in the family goes to bed, I enjoy looking at Google Maps on my PC and I imagine what the bivouacs will look like this year."
Shinsuke Umeda will team up for the first time with Facundo Jaton, nephew of the famous Argentinian rally driver Ariel Jaton. In addition to being an experienced driver and navigator, Jaton is also a skilled mechanic specialising in the preparation of race cars. He started competing in the rally raid championship in Argentina when he was 15 and made his debut on the Dakar in 2011 as co-driver. Since then, three other Dakar Rallies have followed.
Rest day position #29 (SSV overall)
#429 – Jean-Claude Pla + Cyril Pla (Xtreme+)
Sharing an extreme adventure like the Dakar as a family is something very unique and precious, and Jean Claude Pla had the chance to live it with his son Jérôme in January 2022. This year he returns with his youngest son Cyril.
A true fan of the Dakar Rally, Jean-Claude has been following the great marathon rally since its first edition in December 1978 and finally, last year, he had the chance to make his dream come true of competing in it first-hand.  "We enjoyed every day. The arrival, the podium ceremony with the medal of the finishers with my son Jerome and the whole Xtremeplus team, Marco Piana, the team owner, and the mechanics, these are unforgettable memories."
For 31-year-old Cyril Pla, this is his first Dakar, but he is not new to the rally raid world: He has competed in the Hellas Rallye, the Tunisia Desert Challenge and the Romania Rally. "I love rally raid. It's a wonderful adventure, a family saga and a personal challenge. I hope to be prepared to tackle the Dakar thanks to the experience gained in the previous rallies and also through the stories of those who have been before me," states Cyril.
Rest day position #39 (SSV overall)
FOR MORE INFORMATION ON THE XTREMEPLUS TEAM, PLEASE VISIT THE WEBSITE HERE. FOLLOW THEIR PROGRESS AT THE 2023 DAKAR RALLY ON THEIR FACEBOOK PAGE HERE.
FOR MORE INFORMATION ON THE POLARIS RZR PRO R, PLEASE CONTACT THE POLARIS ORV MEDIA OFFICE AT PRESS@POLARIS-ORV.MEDIA
ABOUT POLARIS
As the global leader in powersports, Polaris Inc. (NYSE: PII) pioneers product breakthroughs and enriching experiences and services that have invited people to discover the joy of being outdoors since our founding in 1954. Polaris' high-quality product line-up includes the Polaris RANGER®, RZR® and Polaris GENERAL™ side-by-side off-road vehicles; Sportsman® all-terrain off-road vehicles; military and commercial off-road vehicles; snowmobiles; Indian Motorcycle® mid-size and heavyweight motorcycles; Slingshot® moto-roadsters; Aixam quadricycles; Goupil electric vehicles; and pontoon and deck boats, including industry-leading Bennington pontoons. Polaris enhances the riding experience with a robust portfolio of parts, garments, and accessories. Proudly headquartered in Minnesota, Polaris serves more than 100 countries across the globe.