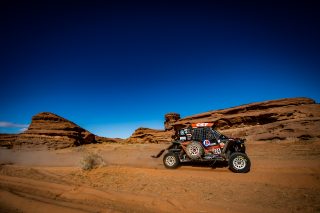 The 42nd edition of the Dakar Rally has officially started, and the participants have now covered over 3,715 kilometres across six stages to reach the rest day on Saturday (January 11), the traditional midway point.
Hosting the legendary rally for the first time, Saudi Arabia's technical and varied terrain is proving a difficult challenge for all competitors, but the Polaris Factory Xtreme+ team is still going strong with two out of three of its SSV teams still in with the chances to complete the worlds hardest race.
Marco Piana, Xtreme Plus Team Manager, said: "There is a special atmosphere here in Saudi Arabia as all of the teams are facing unknown territories. We are enjoying the beautiful scenery that we haven't seen before, but with that brings unexpected challenges. The most important thing for us is that we are still in the race, despite the difficult conditions. The RZRs are performing very well and the pilots are setting a good pace with a wise approach, so I am very pleased. Our mechanics will be preparing and revising the machines on rest day, ready for another demanding week ahead, which I'm sure will test our teams' focus and determination even more. We will keep pushing on with confidence ready for the finish line in Qiddiyah!"
Stage 1: Jeddah to Al Wajh (Jan 5)
From the very start of the Dakar Rally, competitors faced a serious challenge. The 319-kilometre special stage featured tough and varied terrain; fast, winding canyons and dry riverbeds, soft, sandy dunes and stony tracks that caused many complications. All three SSV Xtreme+ teams took caution and care and successfully completed this difficult first stage in good time.
Stage 2: Al Wajh to Neom (Jan 6)
With rapidly changing terrain, the second day of the Dakar Rally put competitor's navigational skills to the test with a lot of parallel and intersecting tracks that caused a lot of confusion. The Polaris Xtreme+ teams all approached the day with wisdom and precision that allowed them to finish the stage positively.
Stage 3: Neom to Neom (Jan 7)
The circular route for stage three took competitors to the border of Jordan. Covered with sand and stones, the track passed through several mountain canyons with the highest altitude special stage for the entire rally, at 1,400 metres above sea level. Despite facing a number of technical issues, all the Polaris Factory Xtreme+ teams managed to finish the third stage successfully.
Stage 4: Neom to Al Ula (Jan 8)
Held in the mountainous region of Wadi Al Disah, the difficult fourth stage of the Dakar Rally covered 672-kilometres with a 453-kilometre special stage. The Xtreme+ team of Eric Abel and Christian Manez put in a very strong performance ranking 16th in this stage, demonstrating the reliability of the Polaris RZR and their exceptional agility and navigational skills. Unfortunately, Graham Knight and David Watson suffered a technical issue forcing them to withdraw from the Dakar this year.
Stage 5: Al Ula to Ha'il (Jan 9)
Stage five brought long stretches of sandy terrain with several rocky sections that forced competitors to be agile and alert at all times to avoid costly mistakes. The Xtreme+ team of Jose Luis Pena Campo and Rafael Tornabell achieved their best results in the fifth stage of the Dakar, ranking 20th, setting a good pace throughout the 353-kilometre special stage and carefully navigating across the dunes.
Stage 6: Ha'il to Riyadh (Jan 10)
The second-longest stage of the Dakar Rally saw a dramatic change in scenery, being entirely off-road with large sand dunes to conquer over the 477-kilometre special stage. With high speeds across most of the stage, the Polaris Xtreme+ teams had to concentrate hard to avoid costly mistakes along the way. The rest day on Saturday (Jan 11) was a welcome break for the teams.
Polaris Factory Xtreme+ team standings at rest day:
#424 Eric Abel & Christian Manez – SSV overall rank: 23
#406 José Luis Peña Campo & Rafael Tornabell Cordoba – SSV overall rank: 26
For the second and final week of Dakar, the crews will face a marathon stage without service assistance along with some of the finest dunes in Saudi Arabia, beautiful mountain landscapes and treacherous stony paths. The 2020 Dakar Rally concludes in Qiddiyah on Friday (January 17).
The Dakar continues…
For more information on the Polaris entry into the 2020 Dakar, please follow the Xtreme+ team on Facebook
For more information on the Dakar Rally, please visit www.dakar.com
For further media information on Polaris ORV products, please contact the Polaris ORV Media Office on +44 (0) 1525 270100 or email us at: press@polaris-orv.media or follow us on Twitter @polarisEMEA_PR
About Polaris
As the global leader in powersports, Polaris Inc. (NYSE: PII) pioneers product breakthroughs and enriching experiences and services that have invited people to discover the joy of being outdoors since our founding in 1954. With annual 2018 sales of $6.1 billion, Polaris' high-quality product line-up includes the Polaris RANGER, RZR and GENERAL side-by-side off-road vehicles; Sportsman all-terrain off-road vehicles; Indian Motorcycle mid-size and heavyweight motorcycles; Slingshot moto-roadsters; snowmobiles; and deck, cruiser and pontoon boats, including industry-leading Bennington pontoons. Polaris enhances the riding experience with parts, garments and accessories, along with a growing aftermarket portfolio, including Transamerican Auto Parts. Polaris' presence in adjacent markets includes military and commercial off-road vehicles, quadricycles, and electric vehicles. Proudly headquartered in Minnesota, Polaris serves more than 100 countries across the globe. www.polaris.com.