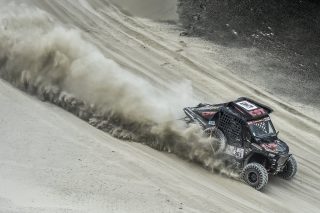 As competitors reach the rest day on Friday 12 January – the traditional midway point of the iconic Dakar Rally – Polaris Factory drivers are putting in strong performances and currently occupy five places in the top eight in the general ranking, with Polaris machines winning three of the six stages so far.
Top placed Polaris competitors, Patrice Garrouste (France) and his co-driver Steven Grenier (Switzerland), are in third place and have two stage wins under their belt – stage four and six. They are just under one hour and 24 minutes behind first place with a total time of 27 hours 7 minutes and 55 seconds.
Their closest competitors are their Polaris Xtreme Plus teammates, Claude Fournier (France) and his co-driver Szymon Gospodarczyk (Poland), who are under two hours behind them.
Just behind them – with a gap of less than ten minutes – in fifth place is Anibal Aliaga (Peru) and Juan Pedro Cilloniz (Peru) – winners of stage one – with a total time of 29 hours, 15 minutes and 51 seconds. They are followed by Spanish competitors José Luis Peña and Rafael Tornabell with a time of 29 hours 50 minutes and 28 seconds. In eighth place are Brazilian teammates, José Jorge "Zeca" Sawaya and Marcelo Haseyama.
Team Director, Marco Piana, said: "The first week went well – it was a good landscape for the SXS machines and the Polaris RZR was at home on this terrain. The six stages have been tough, but very good. We are always fighting against our competitors and have won three stages so far, which shows our machine is fast and competitive.

"Unfortunately Garrouste and his teammate Grenier – who are in third place at the time of the rest day – hit a rock in the sand dunes during one of the stages and lost three hours for the repair needed to the vehicle, but the race is still on – it's important to remember too that the racers are all rookies. We have eight days to go so we will continue to race our best."
Polaris became the very first official Dakar SSV class winners last year, after Leandro Torres and co-driver, Lourival Roldan, took the title in their factory Xtreme Plus Polaris RZR. This year, the experienced French-based team have entered five specially prepared RZR XP 1000s and RZR XP Turbo.
There are eight stages still to go for the racers with the race concluding in Córdoba, Argentina on Saturday 20 January.
The Xtreme Plus Polaris Team consist of the following crews:
No. 388 ANIBAL ALIAGA / JUAN PEDRO CILLONIZ (PERU / PERU)
No. 387 CLAUDE FOURNIER / SZYMON GOSPODARCZYK (FRANCE / POLAND)
No. 361 PATRICE GARROUSTE / STEVEN GRENIER (FRANCE / SWITZERLAND)
No. 396 JOSE LUS PENA / RAFAEL TORNABELL (SPAIN / SPAIN)
No. 378 JOSE JORGE "ZECA" SAWAYA / MARCELO HASEYAMA (BRAZIL / BRAZIL)
For more information on the Polaris entry into the 2018 Dakar, please follow the Xtreme Plus team on Facebook at https://www.facebook.com/infoxtremeplus/
For more information on the Dakar that takes place between January 6 and 20, please visit www.dakar.com
For further media information on Polaris ORV products, please contact the Polaris ORV Media Office on +44 (0) 1525 270100 or email us at: press@polaris-orv.media or follow us on Twitter @polarisEMEA_PR
About Polaris
Polaris Industries Inc. (NYSE: PII) is a global powersports leader with annual 2015 sales of $4.7 billion. Polaris fuels the passion of riders, workers and outdoor enthusiasts with our RANGER®, RZR® and POLARIS GENERAL™ side-by-side off-road vehicles; our SPORTSMAN® and POLARIS ACE® all-terrain off-road vehicles; VICTORY® and INDIAN MOTORCYCLE® midsize and heavyweight motorcycles; SLINGSHOT® moto-roadsters; and Polaris RMK®, INDY®, SWITCHBACK® and RUSH® snowmobiles. Polaris enhances the riding experience with parts, garments and accessories sold under multiple recognizable brands, and has a growing presence in adjacent markets globally with products including military and commercial off-road vehicles, quadricycles, and electric vehicles. www.polaris.com