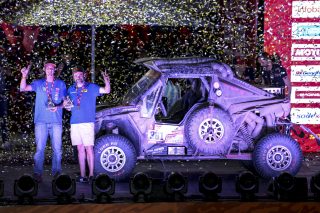 After battling a variety of challenging landscapes and racing in extreme temperatures since the Dakar Rally began on Saturday 6 January, Polaris Xtreme Plus competitors finished the 2018 Rally in second, third and fourth place as the Rally reached its conclusion in Córdoba on Saturday 20 January.
With three Polaris RZRs finishing the iconic event, Polaris is the most successful manufacturer in this year's Dakar Rally in the SXS category.
Patrice Garrouste (France) and his co-driver Steven Grenier (Switzerland) were the top placed Polaris finishers in second place overall in their Xtreme Plus specially prepared Polaris RZR XP Turbo. They were just 57m37s behind first place and were winners of five stages – stage four, six, 10, 11 and 13. They finished the iconic rally with a total time of 73 hours, 41m43s.
Third place finishers were Claude Fournier (France) and his co-driver Szymon Gospodarczyk (Poland) with a total time of 82 hours, 53m31s. Spanish competitors – and Dakar Rally rookies – José Luis Peña and Rafael Tornabell finished in fourth place with a time of 82 hours, 57m26s. He was top finishing 'Rookie', finishing 29th overall in the car and SXS category.
Team Director, Marco Piana, said: "We are happy with the result. It was a good balance for the Xtreme Plus Polaris Factory team. We had five total stage wins by Garrouste and one by Aliaga Anibal. What is exceptional is that in the first 30 cars overall classification we can find four SXS – Garrouste in 25th, Fournier in 28th and Peña 29th.  

"The Dakar Rally requires technical ability, good machines and strong drivers and co-drivers – this was more important than pure speed. We are sure that the category will get stronger and stronger and grow even bigger in the future.

"For us it is a pleasure to help drivers achieve their dreams – Peña had a lot of emotion as it was his dream to finish a Dakar since he was a child. In the last stage, Fournier did a brilliant job of controlling the race and making no mistakes to maintain his position. He was the best performing Polaris driver with a non-Turbo machine, which is testament to his fantastic efforts.

"We want to say a big thank you to Polaris, Motul and CST tires that they tryst in Xtreme Plus and in SXS. In 2019, we will come back stronger and get the awards back that Xtreme Plus have won since 2012."
For further media information on Polaris ORV products, please contact the Polaris ORV Media Office on +44 (0) 1525 270100 or email us at: press@polaris-orv.media or follow us on Twitter @polarisEMEA_PR
About Polaris
Polaris Industries Inc. (NYSE: PII) is a global powersports leader with annual 2015 sales of $4.7 billion. Polaris fuels the passion of riders, workers and outdoor enthusiasts with our RANGER®, RZR® and POLARIS GENERAL™ side-by-side off-road vehicles; our SPORTSMAN® and POLARIS ACE® all-terrain off-road vehicles; VICTORY® and INDIAN MOTORCYCLE® midsize and heavyweight motorcycles; SLINGSHOT® moto-roadsters; and Polaris RMK®, INDY®, SWITCHBACK® and RUSH® snowmobiles. Polaris enhances the riding experience with parts, garments and accessories sold under multiple recognizable brands, and has a growing presence in adjacent markets globally with products including military and commercial off-road vehicles, quadricycles, and electric vehicles. www.polaris.com