Files
Carlos Checa: "I love every single moment in the RZR as every minute is different."

Login to Download
Carlos Checa- "Disfruté cada minuto que pasé en el RZR, cada momento fue diferente."

Login to Download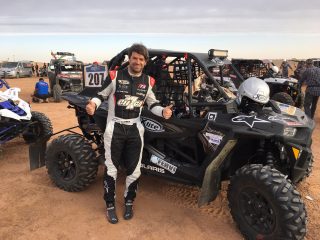 Following a successful 20-year career racing superbikes at world level in a variety of championships – including the World Superbike Championship and MotoGP classes – Carlos Checa recently swapped two-wheels for four when he raced a Polaris RZR in the Afriquia Merzouga Rally.
It was the first time that the 2011 World Superbike Champion had worked with a co-pilot when racing and they finished the challenging rally in 12th place out of 24 competitors in the SSV class.
"I wanted to do something completely different and new in comparison to what I had done in my past. This was my first experience in four wheels with a co-pilot and we got a great result and I really enjoyed it. Of course, I need to improve quite a lot and that's another reason I also like working with a navigator."
What is the biggest difference between racing the RZR in comparison to the two-wheeled machines he is used to?
"I feel more safe in the RZR and it is a nice feeling to drive in such different and picturesque landscapes. I especially like driving over the sand dunes – the Polaris RZR performs amazingly. I love every single moment in the RZR as every minute is different – when you are racing on a circuit, you must be precise and repeating the same every single lap whereas in the RZR, there are always new challenges and obstacles to conquer.
"The Polaris RZR that we raced was quite standard and I was impressed with its performance – how it can climb dunes and rock mountains like a trials car. For future events we will be preparing and altering it in a number of areas to be even more competitive."
Carlos' retirement from motorcycle racing at the end of the 2013 season – aged 41 – came as a shock to many of his fans – who will be happy to hear he is continuing to channel his competitive nature.
"Racing motorcycles is more short and intense bursts of concentration – like an espresso coffee. Racing the Polaris RZR provides me with a different kind of adrenaline because the approach and the mental concentration is completely different. It was a new adventure over the course of the six days, it was more 'navigation' than 'go fast' and I got to share it all with my co-pilot, Stefano Pelloni.
"I like to keep active – both mentally and physically – and having a goal which enables me to learn something new and involves motor racing, then this is great. The speed and the motivation to be faster, for me is the best!"
Carlos is considering racing in the Polaris Trophy, a race organized by Polaris Spain in Morocco.
For further media information on Polaris ORV products, please contact the Polaris ORV Media Office on +44 (0) 1525 270100 or email us at: press@polaris-orv.media or follow us on Twitter @polarisEMEA_PR
 About Polaris
Polaris Industries Inc. (NYSE: PII) is a global powersports leader with annual 2015 sales of $4.7 billion. Polaris fuels the passion of riders, workers and outdoor enthusiasts with our RANGER®, RZR® and POLARIS GENERAL™ side-by-side off-road vehicles; our SPORTSMAN® and POLARIS ACE® all-terrain off-road vehicles; VICTORY® and INDIAN MOTORCYCLE® midsize and heavyweight motorcycles; SLINGSHOT®moto-roadsters; and Polaris RMK®, INDY®, SWITCHBACK® and RUSH® snowmobiles. Polaris enhances the riding experience with parts, garments and accessories sold under multiple recognizable brands, and has a growing presence in adjacent markets globally with products including military and commercial off-road vehicles, quadricycles, and electric vehicles. www.polaris.com