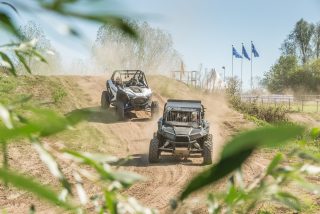 The very first edition of Polaris Camp Benelux took place on 14th September, welcoming riders of all ages from across the Netherlands, Belgium and Luxemburg to join Polaris at the Oss Motocross Circuit.
Open for all Polaris side-by-side and ATV owners, the action-packed day offered riders the opportunity to put their vehicles to the test across the challenging off-road track, featuring a host of fast-changing corners, and steep inclines and declines that exploited the full capabilities of the Polaris range. Alongside the main track, there was also a separate off-road circuit specifically for young riders, making the event a fantastic day out for the whole family to enjoy.
Lynda Provoost, Marketing Manager for Polaris Benelux, said: "We were stoked to host the very first edition of Polaris Camp Benelux. It was a fantastic opportunity to give our customers the chance to push the limits off-road in a safe environment alongside their friends and family. We're already really excited for the next Polaris Camp Benelux in 2020 and look forward to growing the event over the upcoming years".
As well as customers putting their own machines through their paces, they could also check out the brand new RZR Pro XP announced for 2020. Not only that, customers could be among the first people in Europe to ride in the new RZR Pro XP with an adrenaline-charged passenger demonstration ride.
"I not only enjoyed the riding, but I also met other like-minded Polaris riders to exchange our off-road experiences and good local places to ride," said Polaris customer Alain Hertleer.

Attendee Wim Strijbos, said, "The long and wide track was the perfect place to test my new RZR. I made some awesome jumps which I've never managed to do before in a RZR, so I definitely had a lot of fun."
The day concluded with an evening barbeque to celebrate the successful event, as well as new friends and great memories. Polaris Camp Benelux will return in September 2020 with even more off-road action and experiences.
For further media information on Polaris ORV products, please contact the Polaris ORV Media Office on +44 (0) 1525 270100 or email us at: press@polaris-orv.media or follow us on Twitter @polarisEMEA_PR
About Polaris
Polaris Industries Inc. (NYSE: PII) is a global powersports leader with annual 2017 sales of $5.4 billion. Polaris fuels the passion of riders, workers and outdoor enthusiasts with our RANGER®, RZR® and POLARIS GENERAL™ side-by-side off-road vehicles; our SPORTSMAN® and POLARIS ACE® all-terrain off-road vehicles; INDIAN MOTORCYCLE® midsize and heavyweight motorcycles; SLINGSHOT® moto-roadsters; and Polaris RMK®, INDY®, SWITCHBACK® and RUSH® snowmobiles. Polaris enhances the riding experience with parts, garments and accessories sold under multiple recognizable brands, and has a growing presence in adjacent markets globally with products including military and commercial off-road vehicles, quadricycles, and electric vehicles. www.polaris.com