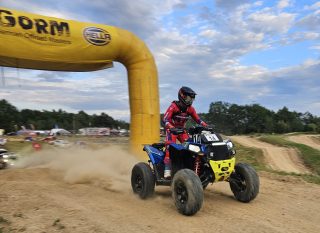 Polaris Germany ambassador, Adrian Schneider—also known as "Quadboy" on his social platforms—set his sights on a new challenge for 2023: The German Off Road Masters 24-hour off-road race that took place this August in Poland.
One of Europe's biggest off-road races of its kind for side-by-sides and ATVs, Adrian's first attempt went down in off-road history, not only taking the victory for the Ironman class —a class specifically for single-rider teams—but also beating all other teams with multiple riders. In the race's 13-year history, Adrian has raised the benchmark to a whole new level this year; he is the first rider to win the race on an ATV, he is the first Ironman rider to win overall, he has set a new distance record at 1,200 kilometres in 24 hours, and remarkably, he has achieved this all on a stock Polaris Scrambler XP 1000 S, proving what's possible with this machine without any performance modifications.
The gruelling race took place over an incredible 18-kilometre-long track that comprised mostly forest tracks with some open fields and motocross tracks; an intensely fast-paced course that required constant concentration and left no room for error. In total, 35 vehicles and teams entered the race, with six in the Ironman class with only one rider for the duration of the race. 
After the race, Polaris caught up with Adrian to find out more about his first 24-hour off-road experience.
Why did you want to take on the 24-hour race this year?
"I like to set myself a riding or racing challenge each year, and this year it was to do something I've never done before. I saw how intense this race has been previously, so knew it would be a completely new challenge for me – both from a riding perspective physically, but also mentally. I work in motorsport, so I have been to 24-hour races before, but working in the pit is a very different experience. Before this, my longest race had been just 2 hours, so I wanted to see what it was like to compete for 24 hours as a rider."
What was the game plan going into the race?
"I went in with a plan to take it steady and smart, not taking too many risks or using too much energy; but once you put your helmet on, it's racing and all that goes out the window, I didn't care and I just went for it. I soon found out that the feeling of adrenaline can't last over 24 hours!"
You broke a lot of race records on your first attempt – were you expecting that result?
"It's hard to set expectations when you don't have any experience in that kind of race, but obviously I'm really happy with my win and didn't expect to set new records in the process. Honestly, I'm really happy to have ticked all those boxes so I don't have that feeling that I need to go back and do it again."
Can you explain what the course was like?
"The course was around 18 kilometres long. It started on a motocross track, then went to some tracks inside the forest; hard terrain and very dusty, and there were parts where it opened up onto fields where we could ride flat out. The entire race was fast-paced, there weren't any areas where you could be more relaxed."
What were the modifications and enhancements you made to your Polaris Scrambler to prepare it for the race?
"This is probably one of the most interesting things to come out of the race: The Scrambler XP 1000 S that I rode was completely standard. It had Walker Evans suspension that is fitted as standard in some markets, and even the power restriction that's applied to all units in Germany with this homologation was still on. The only additions were some RIGID light bars provided by Polaris and an extra fuel tank that we fitted to the front to allow us to go longer without refilling. All the other competitors were quite confused when I arrived at the race with this setup, as there were a lot of aftermarket parts fitted to the other vehicles to help with reliability, strength and power for the race. 
"When I was discussing this event with Polaris Germany earlier this year, this was one of the goals of doing the race – to show just how capable the Scrambler is straight out of the box. My dad had even got a second Scrambler ready in the pits in case we needed any spare parts, but we didn't need anything from it. At the very end, I was two laps in front, and we changed the belt just to be very sure that we were safe to take the win. It's incredible. I have a lot of trust in the vehicle because I have a lot of great experiences with it in remote destinations, but I was so impressed with the outcome and just how good it was in this scenario."
So why do you think the Scrambler is so competitive?
"It's the overall package. The steering is very reactive and the suspension really does a lot of the work for you. Since the 1000 S model was launched, I've ridden in a lot of different countries and terrain covering thousands of kilometres, so I've gained a lot of trust in this machine – I know nothing will break, and I'm constantly pushing to go faster and faster without any doubts or concerns in my head."
What kind of personal training and preparation did you undertake leading up to the race? 
"My training started around 6 months before the race, but the last two months were very intense. What everyone says not to do in preparation for endurance—I did. Weight training was one of the key things because when I feel strong, I feel like I have a lot more control and confidence on the ATV. Spending a lot of time in the gym can get quite boring, so I also did a lot of running, swimming, and I even took up football, which isn't really my type of sport, but it helped to mix things up.
"I also had to learn a lot about maintaining energy and making sure I had the right amount of calories during the 24-hour period. I used a Garmin watch during the event and it showed that I burnt off 8,500 calories in total, so as you can imagine, I needed to eat a lot of carbohydrates to keep going."
Can you share some insights into the physical and mental endurance required for a 24-hour race?
"My mental state from the beginning to the end is an interesting curve. I soon found out that the mental battle was even harder than the physical one in this kind of race. There was another rider on a Polaris Scrambler who was pushing like hell, so naturally he was my main competition that I was keeping my eye on. I said to myself before the race that I would start off slow, keeping things steady to preserve my energy, but then he started pushing, and that made me push too. In the first seven hours, it was like a sprint race between us, but then it started to get harder. 
"At around 2 AM, we both arrived at the pits at the same time for a quick service, we looked at each other and without speaking or signalling, we both saw we were equally exhausted. After those first seven hours of intense riding, I couldn't move my arms—they didn't feel connected to my body anymore—and at some points, my thumb couldn't even trigger the throttle so I was pushing it with the palm of my hand. Despite that, even though every part of my body told me to stop riding, I kept telling myself that I wanted to keep going and avoid taking a break – I thought, 'just keep collecting some more metres' – but it was really hard. I pushed with everything I could, it was pitch black, it started to rain a little bit and everything got really slippery. There were a few times when I almost crashed. I wanted to stop at every single moment that passed by. After what felt like forever, everything suddenly brightened; my mood lifted, my arms came back to my body and my times got much faster. 
"When I knew I had a two-lap advantage towards the end, I was getting the adrenaline rush that I needed to push my limits. When the other Scrambler went faster, I went faster, and it was only then that I felt truly happy to be riding and excited to take home the win.
"After the race, it hit me hard. I could barely walk, my legs were completely out of action. I couldn't get out of bed the next day and it's taken a lot of physio to help me recover – even now, over a month later, I'm still getting some physio."
You clearly have the right aptitude for racing. Where did your passion for off-roading begin?
"I was three years old when I started with a little quad that I got from my dad. I was always going to off-road events with him when I was a kid. Then, when I was 11 years old, I started racing. From then on, I was racing ATVs and motorcycles as a hobby. Although I've always been more confident on four wheels.
"I was five when I got my first Polaris – a Polaris Predator 90 – and ever since then, I've been Polaris through and through. Once my dad saw how good the machines were, he actually became a Polaris dealer here in Germany—4×4 Powerparts—so we've had a very longstanding relationship with the brand. In parallel, I set up Instagram and YouTube channels to fuel my passion for everything and anything that has an engine. It gained quite a lot of popularity with a big audience of like-minded enthusiasts, which then led to me becoming a Polaris Germany ambassador in 2020."
It sounds like your dad has been a big influence.
"He really has. I owe a big thank you to my dad, his dealership and my whole team who support me with challenges like this; they were a huge part of this win. I'd like to say a special thanks to Polaris Germany for their continued support too, it's awesome to have the brand behind me."
Do you have any other races on the horizon?
"I don't have any other big races in plan at the moment, but I would love to do some international rallies in the future. A new challenge for me would be to learn to read road books and manage this aspect in a race. I absolutely love travelling and riding in new countries, so they would go hand-in-hand. Of course, it goes without saying that everybody who loves off-road racing and rallies would have the ultimate goal of Dakar, but to do something like that at the moment is just a dream. Maybe one day!"
Follow Adrian's racing and off-road endeavours on Instagram: @quadboy_official
About Polaris
As the global leader in powersports, Polaris Inc. (NYSE: PII) pioneers product breakthroughs and enriching experiences and services that have invited people to discover the joy of being outdoors since our founding in 1954. Polaris' high-quality product line-up includes the Polaris RANGER®, RZR® and Polaris GENERAL™ side-by-side off-road vehicles; Sportsman® all-terrain off-road vehicles; military and commercial off-road vehicles; snowmobiles; Indian Motorcycle® mid-size and heavyweight motorcycles; Slingshot® moto-roadsters; Aixam quadricycles; Goupil electric vehicles; and pontoon and deck boats, including industry-leading Bennington pontoons. Polaris enhances the riding experience with a robust portfolio of parts, garments, and accessories. Proudly headquartered in Minnesota, Polaris serves more than 100 countries across the globe.